Every train journey this week, my needles have been flashing and jabbing (and of course, stabbing myself in the finger and even the leg – thanks french knots) to finish my 'Pete the Pirate: setting out' design. Look, it even has a proper name now and everything! I finished it on Friday, with one subtle change. With the addition of some long blondish hair this one became Priscilla the Pirate. Well, girls can be pirates too right? RIGHT.
Go forth and have adventures! Huzzah!
Little close-up to show some of the textures
I've enjoyed making this so much that I've already started on a second Pete pirate, and I think I might even make a few more. This is the first hoop design I've made that just really clicked for me, straight away. Here's to many more! A few people have asked if I'll be selling these, and I do plan to make one or two extra to sell in...wait for it...that's right, my Folksy shop! After months of a small amount of hard work and a large amount of prevaricating, I have actually set up my Folksy shop, and you can find it here. Now, before you have a peek, there is actually only one thing in the shop at the moment. However, now I've taken the plunge, I will get some more things up soon. The whole thing seems much less scary and onerous now that I've actually tried it out. When I get more things up I'll update you all on here, and then I'll pop a button up on the blog to shout about my shop!
Oh and another exciting thing happened this week! I usually post on a Sunday night so I quite often link up to the excellent Nifty Thrifty Sunday linky party. There are always some fun and smart things on there, and I love a good browse. I linked up my unfinished pirate design last week and I was pretty stunned when Vanessa commented on my blog to say that I'd been picked as one of the six features of the week! WOW. I also got the notification yesterday which was my birthday, so it seemed like a lovely extra special birthday treat! Thanks Vanessa! I was chuffed to feature and will display my badge with pleasure.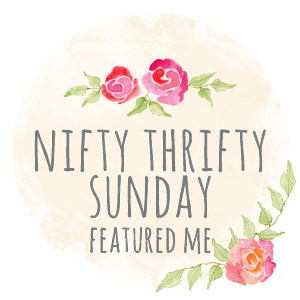 I've also added to my fabric hoard this week after a trip to my local fabric store. I got some lovely Michael Miller fabric which I plan to use as a background to some more new embroideries I have planned, and I also couldn't resist this lovely stack of black and white fat quarters. No idea what I'm going to use them for, but I'm sure something will come along that needs them :)
Bought loads of this...better get moving!
*droooool*...what will you tasty fat quarters become???
No WIP updates this week, I'm far too busy stitching, stitching! It's also now just over a week until my first embroidery workshop, so I'm beavering away getting the final things in place for that. So excited!
Laters!
Jules